The first step in making a scroll from that lump of wood is some careful measurement, followed by careful sawing. After investing some time in making sure that all the edges of the lump of wood are perfectly flat and at the appropriate angles, a center-line is scribed into the wood. The modern violin has some fairly standardized parameters--width of the neck at the base, width of the neck at the nut, and so on--so these are also measured and scribed into the wood.
Then, it's time for a quick trip to the band saw to hack off the easy bits.
Then comes a little more delicate work. The scroll is not standardized, and a even my eye can easily discern between a Stradivari scroll and a Stainer scroll and a del Gesu scroll. My scroll, like the rest of this fiddle, is loosely based on a Stainer scroll. I made a template based on a photo, and used a pin to poke the pattern into the wood. Nibbling away with a dozuki saw begins to reveal the scroll.
There are some traditions, especially among folk makers, to put heads or other figures instead of scrolls: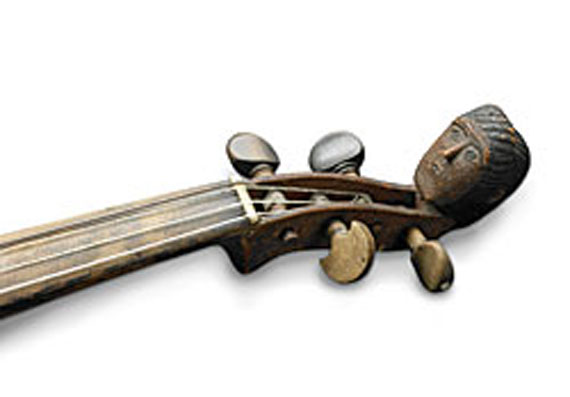 I was looking at mine, and wondered whether anybody out there has done a Princess Leia scroll: